Alien Cat Studios ®
Animated Productions
We are currently changing our focus from 2D animations to 3D animation and film productions. For now, you can enjoy our free 2D cartoons originally produced as concept cartoons. Return here in the future to hear about our latest 3D animation and film projects.
Educational Videos and Apps
This is the first of a series of videos that will be available again soon on our online English educational sites and as an app. Our educational sites are currently under re-construction, check back soon for links!
It and Oop!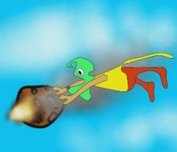 This is a short 2D cartoon about two aliens trying to make friends on earth with the help of a book on "How to Make New Friends"
Eimblindt undt Da Rats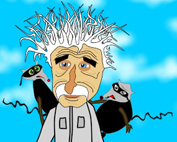 This is a short 2D cartoon about a professor who invents a time machine that is stolen by rats. When the rats steal his machine, Professor Eimblindt is forced to chase them through time to get it back before they change history."